ISBN 978-0-9560784-5-2 FAQ Contents

5 star rated!

Inspecting Personal Fall Protection Equipment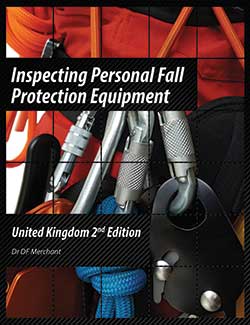 All-new 2nd Edition! Fully updated to cover the UK's departure from the European Union, with expanded coverage of lifting accessories.
This essential reference is the only complete guide to inspecting all forms of industrial and sporting PFPE, covering the legal and record-keeping requirements for UK workplaces post-Brexit, plus the practical process of inspection and maintenance, combining detailed technical guidance with an easy-to-read style.
If you are working at height or in confined spaces as part of a job, as a member of a military or rescue team, or enjoy extreme sports as a climber, caver, canyoner or bungee jumper, then your life depends on your safety equipment. Being able to inspect and maintain your gear in a safe working condition is an essential skill, and in a workplace is required by law. Many times the standards, laws, guidance and advice you receive can be confusing. This book explains it all.
160 full-color pages covering all types of industrial and sporting PFPE.
Sample reports, detailed checklists and explanations of the science behind equipment failure.
Suitable for all types of workplace and sporting users.
RRP £29.95 (paperback)
Personal fall protection equipment comes in a huge range of styles, from a coil of rope to the latest complex designs of descender or rescue system. Inspecting and maintaining each item requires a detailed knowledge of standards, design specifications, corrosion, wear and chemical damage. We have chapters on the fundamentals of inspection and damage, standards approvals and legal duties that apply to workplace use; then detailed chapters on each type of device explaining clearly what to look for, how they should operate, and how they can fail. The information and techniques can be applied to any brand of equipment certified under the EN standards framework.
Contents
General principles
Systems of Inspection
What is Personal Protective Equipment?
UK workplace laws about PPE
Who should do inspections?
Lifting Equipment vs. PPE
Inspection frequency
Record-keeping
Marking equipment
Inspecting metal components
Corrosion in detail
Inspecting textiles
Inspecting plastics and rubber
Repair, disposal and quarantine
Equipment in detail
PPE connectors
Pulleys
Steel wire slings and ladders
Descenders
Rope clamps
Fall arrest devices for rope
Lifting shackles and chain
PFPE ropes and webbing slings
Harnesses and belts
Lanyards and polestraps
Textile lifting slings
Retractable-type fall arresters
PFPE anchor devices
Helmets
Crampons and ice tools
Sport climbing anchors
Standards and references
FAQs
What's new in the 2nd Edition?

All references to BS/EN standards have been updated, and we have added new sections for lifting accessories that are commonly used in work at height, such as roundslings, shackles and chain. Brexit has of course affected the legal framework for PPE in the UK, and we explain all the changes and what happens during the Implementation Period. The future situation will depend on what trade deals are struck, and if there are major changes to the acceptable product approvals or safety standards then another edition of the book will be published.

What standards and equipment does the book refer to?

We avoid brand-specific naming as much as possible, and refer to equipment that has BS/EN approvals and design features. The legal aspects of work at height refer to the UK (Work at Height Regulations, PUWER and LOLER, etc.) in place as of February 2020. The techniques and protocols described in the book for inspecting classes of equipment are universally-applicable.

Does the book make me into a 'competent person'?

In law, to be 'competent' means you have the necessary skills and experience, both theoretical and practical, to carry out inspections of the items placed before you. This book provides a complete reference to these skills, but of course cannot provide experience of the specific brands and models you are inspecting. Only you can decide if you are indeed competent to inspect a particular item, but there is no legal requirement in the UK to be certified or to hold any academic qualification. If you are familiar with the item, have access to the instructions, and follow the guidance in this book carefully, there is no reason why you could not safely and legally perform inspections of PFPE in a workplace. Some complex and installed systems (winches, fall arrest anchors, wire and rail systems, etc.) require inspectors to be trained, as the process involves functional tests and replacement of spare parts - these devices are not covered by this book, but the principles of damage (corrosion, stress, etc.) are the same, so the book provides a valuable background reference.

Do you provide the entire book as a download?

No. The book contains Crown copyright material subject to reproduction licenses which do not extend to ebook versions.

We aren't in the UK - is the book still suitable for us?

Although the first section of the book is aimed at complying with UK workplace legislation, the main body of the text covering the actual inspection process applies to any item, and so is equally valid in any country using CE and EN standards schemes. The book is not intended for markets following the OSHA/NFPA frameworks (USA, Canada, etc.), where equipment and techniques are significantly different.

I'm a sport user / club member not a workplace inspector. Is the book still suitable?

Very much so - as an individual, personal user you can ignore the first couple of pages on workplace laws, but 90% of the book is entirely relevant to sport climbers, cavers, mountaineers - anyone who uses harnesses and ropes. As a member of a club, you will often find it's easier (and safer for your members) to follow the "workplace" style of inspections even though you don't have to. Some insurance companies will insist on it.

Can I copy/extract parts of the book for training/newsletters/etc.?

With permission, yes. Contact us and describe what parts you wish to use and how they'll be used, and we will normally be happy to provide permission.

Can I use/sell copies as part of a training course?

Yes - indeed many training companies already do, and the book's content has been specifically designed to complement a face-to-face training course using any brand of equipment. If you are in need of bulk purchases, contact us for info on discounted pricing.

Can I copy the blank form templates for use in my company?

Yes, but you'll find it easier to download those pages from the link above, as a free PDF. You can make as many copies of those forms as you want, but you cannot re-sell the templates.
If you have any other questions, please contact us and we'll be happy to help!