Blog: ProGuide USAR Operations 3rd Edition
The Third Edition of ProGuide USAR Operations will be published Nov 11 2023 and available to purchase through Amazon shortly after..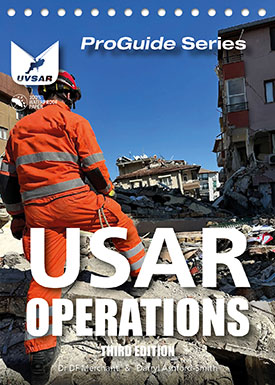 On Nov 11 2023 the latest version of our best-selling ProGuide USAR Operations book will be published and available for trade and team orders direct from UVSAR. We expect the title to appear on Amazon a week later. Despite increased costs we have been able to keep prices the same.
The contents have been fully reviewed and updated, ensuring the guidance aligns with the latest best practices, INSARAG and USACE-FEMA protocols.
Changes
Structure marking/mapping and assessment (ASR) protocols match the INSARAG 2020 Guidelines (in force as of 2023).
Timber shoring diagrams follow the latest practices, e.g. preferring half-size gusset plates.
Shore "design loads" agree with USACE-FEMA values where applicable.
Sloped-floor shores have been renamed (designs have not changed).
The "u-box" raker base is retained as it remains an essential option for some surfaces (it was removed from USACE-FEMA publications).
More detailed table of contents now lists every shore.
Many improvements to the fine detail in diagrams.
Updated checklists with greater emphasis on modern technologies, e.g. UAVs.
Updated hot cutting guidance for window breaches.
New casualty care triage information [GCS and MPTT-24].
Crane hand signals have been removed as they are extremely country-specific.
Blank forms have been removed to maintain the same cover price.
Download a PDF with sample pages.
---
Posted 2023-11-04 10:18:37 TAGS: Books